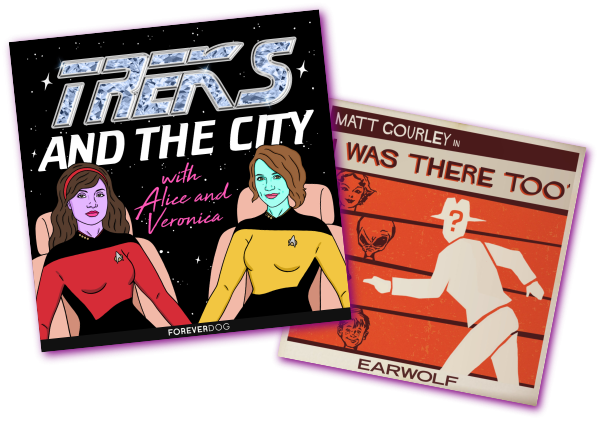 English version available – click here to read.
Ich leide an chronischem Podcast-Burnout. Zeitweilig entsprachen meine Podcastwochenstunden einer Teilzeitstelle; hätte ich alle Episoden aller Abos hören wollen wäre es Vollzeit geworden. Letztens erlitt nun auch das letzte smarte Mobilgerät Displaybruch und ich wurde befreit vom Fluch der Bequemlichkeit: Seitdem ich nicht mehr via App, sondern wieder von Hand runterlade und die Episoden, die ich angehört habe, nur im Kopf abhake, ist Platz geworden für Neues im Stundenplan. Wieso also nicht die enterpriseförmige Bildungslücke schließen und einen Star-Trek-Podcast abonnieren!
Als Fan des sympathischen Podcast-Netzwerks Maximum Fun versuchte ich es mit The Greatest Generation, das nach dem klassischen Eine-Episode-Pro-Episode-Prinzip vorgeht, zu dem wir uns auch entschieden haben.
Weil ich von der medialen TNG-Renaissance in letzter Zeit ermüdet bin und weil ich eh schon so viele Dudes in meinen Podcasts-Abos höre, war ich schnell wieder raus – eventuell zu schnell, denn erfahrungsgemäß gibt es Hosts, denen man mehr Zeit geben muss, bis es klickt.
Vor kurzem ploppte dann der Podcast Treks And The City auf, der zwar in die gleiche TNG-Bresche schlägt, aber mit dieser Tagline wirbt:
Move over Nerdbros. Alice Wetterlund and Veronica Osorio are bringing a much needed feminist perspective to the sci-fi roundtable
Sold! Vom Forever Dog Podcast Network kannte ich bisher nur die Pilotfolge des Podcast for Laundry, mit dessen ironischem, antihumorösen Konzept ("absichtlich schwierig") ich mir, naja, zu schwer getan hatte (wie auch der Gast, Tom Scharpling. TNG-Fan, übrigens). Ich machte auch prompt den Anfängerfehler die allererste Folge anzuhören, in der dann auch noch jemand zu Gast war, mit dem es bei mir in der Vergangenheit nicht "geklickt" hat (eine Hälfte der Gilmore Guys). Ein paar Folgen später war der Fokus schärfer und Podcast-Botschafter Paul F. Tompkins zu Gast, und: klick! Der Podcast ist immer noch ein sehr loses Gespräch mit Abschweifungen und Gekicher, aber das ist hier – und ich habe etwas gebraucht um das zu kapieren – ein Vorteil. Dass die Gäste (dank UCB-Connections) eher aus der Comedy als aus Sci-Fi kommen, eine für Star Trek und Podcasts relativ hohe Diversity aufweisen und die Hosts kein (technisch-)enzyklopädisches Star-Trek-Wissen haben, erlaubt neue, ungewöhnliche, interessante, left-field Beobachtungen.
Es gibt zwar das übliche Lustigmachen über Logiklöcher und Weiterspinnen von dünnen Sci-Fi-Konzepten (sozusagen Retcon-Improv), aber auch erfrischende Pro-Lwaxana-Perspektiven, generelle Sex-Positivity und die Anerkennung von Abseitigem und Nebensächlichem, etwa dass Riker ("erdiger Typ") Hobbies hat und kocht. Wenn ich an dieser Stelle nicht schon an Bord gewesen wäre, hätte mich diese zum Running Gag gewordene Schrulle überzeugt: Auf dem Schiff ist "upstairs", auf dem Planeten "downstairs" – cruise ship in space indeed!
Eine andere Perspektive bietet Earwolfs I Was There Too, bei dem Nebendarsteller_innen über ihre Erlebnisse mit kleinen Rollen in großen  Filmen erzählen. Im Feld der Science Fiction ist Host Matt Gourley mehr in Star Wars zuhause und konnte auch einige Gäste aus dem Franchise interviewen – das Gespräch mit Jar-Jar-Binks-Darsteller Ahmed Best war faszinierend; Greg Proops, der eine Hälfte des zweiköpfigen Podrace-Kommentators (Kommentatoren-Duos?) spielte, gewährt einen Blick hinter die hochprofessionellen Kulissen (und erzählt eine unglaubliche Harrison-Ford-Kiff-Anekdote, die zum witzigsten gehört, was ich je gehört habe). Leider sind diese, wie alle älteren Episoden hinter der Stitcher-Premium-Paywall verschwunden, das heißt Eile ist geboten um die aktuelle, erste genuine Star-Trek-Episode zu erwischen. Brandon Adams, dezidierter Nichtschauspieler, berichtet sympathisch unprofessionell von seiner Rolle als "Jim Shuttle" (uncredited) im ersten Star-Trek-Reboot. Er erzählt von Geheimhaltungsroben, Staranbiederung und bricht live on tape eine Stillschweigevereinbarung. Man kann regelrecht die Schweißtropfen fallen hören, während er fieberhaft überlegt ob er nicht doch zurückrudern soll. Now that's podcasting!
Star Trek Podcasts: Treks And The City & I Was There Too
I suffer from recurring podcast burn-out. There were times where keeping up felt like a part-time job; full-time if I tried to listen to every episode of every subscription. The other day my last smart mobile device's screen shattered and the curse of convenience was lifted from me: Now that I stopped using an app, and instead download manually and memorize which episodes I have listened, my schedule cleared up. Why not fill this enterprise-shaped void with Star Trek podcasts!
As a fan of the likable Maximum Fun podcast network I gave their Greatest Generation a try, which utilizes the accepted one-episode-per-episode approach (just like we do!).
Tired of the recent TNG media renaissance and tired of too many dudes in my feeds I dropped out pretty quickly – maybe prematurely. Maybe they are the kind of hosts who require longer to get comfortable with…
Recently a podcast called Treks And The City popped up, which strikes the familiar TNG chord, but sports this tagline:
Move over Nerdbros. Alice Wetterlund and Veronica Osorio are bringing a much needed feminist perspective to the sci-fi roundtable
Sold! I was familiar with its home, the Forever Dog Podcast Network, only from the pilot episode of their Podcast for Laundry, whose ironic, anti-humor concept ("deliberately difficult") was, well, too difficult for me (and for its guest, fellow TNG fan Tom Scharpling, too). I repeated the rookie mistake of starting with the first episode, which also happened to feature a guest who I failed to connect with in the past (one half of the Gilmore Guys). A handful of episodes in the focus sharpened, podcast ambassador Paul F. Tompkins guested, and: bingo! It is still a loopy conversation heavy on tangents and giggling, but this turns out to be an advantage. The guests are exceptionally diverse for a podcast, even more so for one about Star Trek, and come from comedy rather than sci fi (both hosts have UCB backgrounds). The lack of technical, encyclopedic knowledge encourages new, unusual, interesting insights from left field.
While they do mine plotholes for comedy and yes-and thin sci-fi concepts (the common retcon improv, if you will), there are also refreshing Pro-Lwaxana takes, a general air of sex positivity and the acknowledgement of oddities and minutiae, as Riker's ("earthy guy") hobbies and cooking. If I hadn't been on board at this point, their signature quirk-cum-running-gag would have pushed me over the edge: on the ship is addressed as "upstairs", on the planet "downstairs" – cruise ship in space indeed!
Earwolf's I Was There Too offers a different vantage point, where extras and background actors tell stories from the sidelines of big movies. When it comes to science fiction host Matt Gourley is more at home in Star Wars, and so far he was able to score a handful of guests from the franchise – his interview with Jar Jar Binks actor Ahmed Best is fascinating; Greg Proops, one half of the two-headed pod race commentators, shares insights behind the highly professional curtains (and tells an incredible Harrison Ford stoner anecdote which is one of the funniest things I have ever heard). Unfortunately these episodes, just as all the older ones, are hidden behind the Stitcher Premium paywall. So hurry to listen to the first genuine Star Trek episode! Brandon Adams, self-declared non-actor, delivers a delightfully unprofessional first-hand account from the set of the first Star Trek reboot, where he played "Jim Shuttle" (uncredited). He mentions secrecy robes, sucking up to the stars and breaks – live on tape – an NDA. You can literally hear his dollops of sweat fall while he struggles with wether to paddle back or not.
Now that's podcasting.